Leah B. Shaw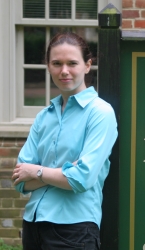 Associate Professor
Dept. of Mathematics
College of William and Mary
P.O. Box 8795
Williamsburg, VA 23187-8795
Location: 119 Jones Hall
E-mail:
lbshaw at wm.edu
(757) 221-1278
BS Physics and Mathematics, Virginia Tech. MS Mathematics, Virginia Tech. PhD Physics, Cornell University.
---

My research employs tools from applied mathematics and physics to model the dynamics of biological populations, including epidemic spread and ecosystems. I am particularly interested in the effects of network structure and random fluctuations on population dynamics.
I mentor Ph.D. students in the Applied Science Department and undergraduate research students on a variety of mathematical biology projects. Undergraduates interested in summer research should ideally contact me by mid-February to allow time to develop a project before summer fellowship and summer housing deadlines. However, students may inquire about undergraduate research opportunities at any time.